Somewhere Sunny Summer's Marching to a Different Drummer
I have a lot of trouble adjusting to the winter. For reasons unknown, my body goes into quasi-hibernation mode right after daylight savings kicks in. I get considerably more tired, more often, regardless of sunlight or caffeine intake. My mood tends to drop, out of nowhere, like the goddamn Tower of Terror. Any sort of ambition or will to do anything constructive (or even destructive!) gets put on hiatus until April, unless I absolutely force myself. Which is all great considering all this horsecrap falls right on top of finals, and by the look of it I'm going to be in school until I'm 30. I'm only barely kidding.
So, I find the best cure is to whip out the previous summer's Big Song. It's funny, actually; I listen to plenty of new music over the summer, but there's only ever a single song that I can genuinely identify with the season. Hell, this time I found the song in late April. There's just something so perfectly sunny about it. The guitars are bright, the voices are sincere, and while it's a breakup song, it definitely veers on the side of "better to have loved and lost" than "oh god come back." Which will hopefully steering me into feeling the former, rather than the latter, about this miserable change in seasons.
Without further ado, here is Dreamdate with their song "8 Sleeves" off 2009′s album Patience:
Audio clip: Adobe Flash Player (version 9 or above) is required to play this audio clip. Download the latest version here. You also need to have JavaScript enabled in your browser.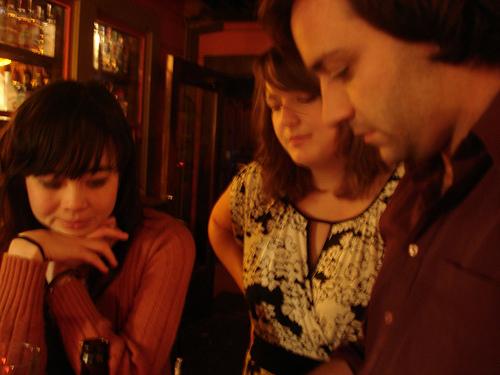 Page 1 of 2 | Next page