I watched Ingmar Bergman's 1957 classic The Seventh Seal (Det sjunde inseglet) last night. For those of you who have never seen it, the mark the film left on media is absolutely indelible. Its imagery persists through time, especially in the films of Woody Allen, who loudly and proudly carries Bergman's influence on his cinematic sleeve. One of my favorite Allen films, Love and Death, references it repeatedly, as does Bananas (which, in an irrelevant aside, also takes credit for being one of Sylvester Stallone's first feature film appearances.) This is the film that loosed the robed-and-accented-Death-as-the-Grim-Reaper archetype into pop culture, although the figure eventually evolved into a skeleton in a robe, rather than a pale man. Bill and Ted's Bogus Journey, for instance, took Bergman's character wholesale, barely bothering to modify it.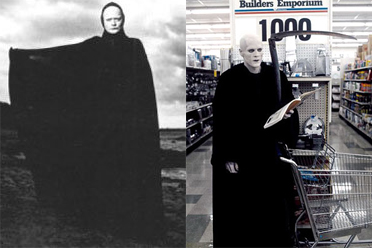 The iconic chess match between the wittily morbid Death incarnate and the unfearing Knight has also been repeatedly referenced. I've spotted it most recently opening Grant Morrison's loving comics-medium paean Seaguy.

My personal favorite (and first witnessed) homage the film was an episode of Animaniacs entitled "Meatballs or Consequences." On location in Sweden (birtplace and lifelong home of Ingmar Bergman and the setting of The Seventh Seal) for a meatball eating contest, Wakko Warner imbibes one too many and dies, to be escorted into the afterlife by a Swedish-accented Death. The cartoon goes on to parody not just the plot and setting of Seventh Seal, but also the classic lipline-match scene from Bergman's 1966 film Persona. Fun fact: it's one of Bergman's better known pieces of imagery outside of Seventh Seal and was also parodied in Love and Death (roughly 2:20 in. Spoiler alert: Final scene of the film.) Unfortunately, I can't track down the original scene from Persona. Anyway, here's the cartoon. Enjoy!
---
In unrelated news, my friend Nathan a.k.a. Renegade Accordion (Facebook, Twitter, YouTube) was profiled by Thirteen. He busks around the city, playing accordion in his trademark Boba Fett helmet. If you see him, say hello! (He plays parties too, folks.)
New York on the Clock: Nathan Stodola, Renegade Accordion from Thirteen.org on Vimeo.