If you've had your ears open in the last few decades, you've heard the Amen Break. It's in everything. Commercials use it all the time and drum and bass and hip hop rely on it for the basic beat behind practically every track. What started as a drum solo on the B-side of a soul 45 from 1969 became the groundwork for an uncountable amount of music. Take a listen, you'll recognize it immediately even though it's about six seconds long:
Audio clip: Adobe Flash Player (version 9 or above) is required to play this audio clip. Download the latest version here. You also need to have JavaScript enabled in your browser.
Clip from "Amen, Brother" by the Melvins. Audio co. Wikipedia.
The Amen Break. Got it, right? Now think back to watching Scooby Doo. Remember the brief sound clip that happened every time a character would dash in mid air and then zoom off? It was a quick bongo beat and then a "zip!" That's sound effect is called the Bongo Run:
Audio clip: Adobe Flash Player (version 9 or above) is required to play this audio clip. Download the latest version here. You also need to have JavaScript enabled in your browser.
Audio co. 8bitcollective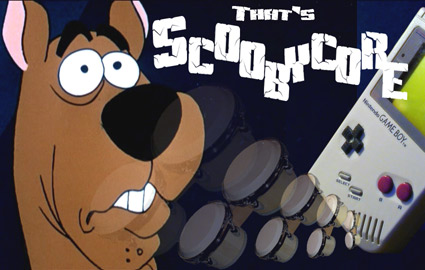 Logo by glomag.
Well, animalstyle of the 8bitcollective chiptunes music group had a brilliant idea. What if you were to make tracks revolving around the Bongo Run instead of the Amen Break? Well, the result spawned one of the tiniest and most insignificant yet incredibly entertaining electronic music subgenres ever: Scoobycore.
TALKTOANIMALS' breakcore track "Scoobie's Doobie 48 Hour Challenge" is my favorite:
Audio clip: Adobe Flash Player (version 9 or above) is required to play this audio clip. Download the latest version here. You also need to have JavaScript enabled in your browser.
hartfelt's "I Would Have Gotten Away With It" is a close second:
Audio clip: Adobe Flash Player (version 9 or above) is required to play this audio clip. Download the latest version here. You also need to have JavaScript enabled in your browser.
Oh, and if you've got twenty free minutes, you can also check out this short documentary on the Amen Break. The video isn't particularly relevant, so you can just have it on in the background: