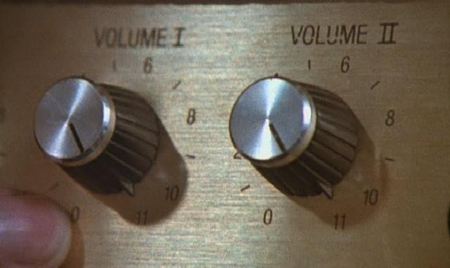 I've always loved the the incredibly varied musical performances in Christopher Guest's films. As an example, here is a scene from Guest and Rob Reiner's 80s metal film Spinal Tap; the titular band – played by Michael McKean, Harry Shearer and Guest himself – plays "Tonight I'm Gonna Rock You Tonight".
What's really special is how Guest and Reiner run down the history of music between the inception of modern rock and roll from blues, country and R&B in the 50s, to the "present", which at that point was the glammy, technically proficient heavy metal of the 1980s. And now here's a scene from earlier in the movie showcasing the Thamesmen, the skiffle band which would eventually become Spinal Tap. Skiffle was a style of American country music which became very popular in the UK during the 50s. Notably, the Beatles were born from the Quarrymen, John Lennon's skiffle band - Guest takes this fact to heart, as you can see.
Later on, the film encounters Spinal Tap, now carrying their name, in a different configuration. Most likely this is directly referencing the psychedelic/blues group Earth, which eventually became the seminal heavy metal band Black Sabbath. Of course, it is also a great parody/pastiche of the popularity and subsequent de-weirdening of 60s psychedelic music.
Roughly 20 years later,Chrristopher Guest directed a folk music mockumentary entitled A Mighty Wind. One of the featured groups, The Folksmen, bore a striking similarity to Spinal Tap.
Yep. That is, once again, Michael McKean, Harry Shearer and Christopher Guest, reunited in a wholly different style. In fact, during Spinal Tap's reunion tour, the Folksmen would play as the opening band.