An amazing blog post was recently brought to my attention. I'll quote directly:
Chris Supranowitz [a] researcher at The Insitute of Optics at the University of Rochester...has decided to look at the relatively boring grooves of a vinyl record using the institute's electron microscope.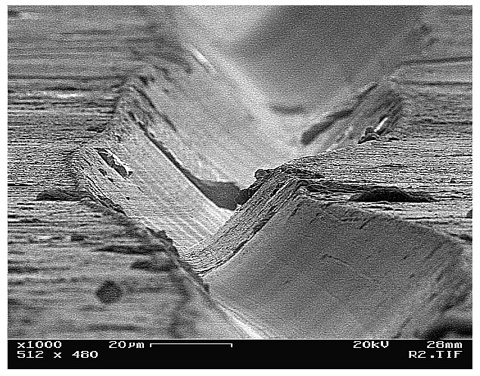 If you follow the link above, there are a few more photos, including a stereoscopic one, if you just so happen to have a pair of those old-school red/blue glasses sitting around. You know, from that golden summer of '54, when you took Susie Q out to see the 3D version of Them!
The scans immediately reminded me of a now-abandoned software project I stumbled upon, almost a decade years old at this point. In 2002, a gentleman named Ofer Springer created the Digital Needle, a program which read high-resolution scans of vinyl records and played the music. The world's first Virtual Gramophone. The recordings are recognizable - especially if you know what Vivaldi's Four Seasons sounds like - but sound like a warped record played into a ham radio whose signal was then bounced off the moon:
Audio clip: Adobe Flash Player (version 9 or above) is required to play this audio clip. Download the latest version here. You also need to have JavaScript enabled in your browser.
Now, while we're talking about vinyl, I'd like to take a second for an Editorial Piece. Hip Bands need to cease this obnoxious vinyl exclusivity fetishism. This is 2010. There is no reason outside of misplaced pretension to release your music on a solitary, grossly archaic medium; pretension belongs in your music, not containing it. Now, I don't mind the fact that new albums and re-releases are coming out on vinyl. Back in high school, I had a record player and a big ol' stack of 60s and 70s records. They were fun to play and it was a blast to have this new format to mess around with. What bugs me is the fact that certain are releasing only on vinyl. It's like straight-up permission to steal their music, and even then I have to wait. I move around. I'm not careful. I have neither the time nor the energy to collect and preserve fragile, temperature-sensitive pieces of plastic and keep a decently-functioning record player equipped a needle that doesn't give my LPs the life-span of those exploding tapes from Mission Impossible. At least put your shit out on digital. And I don't mean iTunes. I mean just a regular ole MP3. At 256 kbps, preferably, if not 320. Or how about FLAC? I don't care for FLAC as a preveservational medium, but I'll encode the shit myself to my own preference.
Thank you.