This blog post chronicles the trip of a few people to the The Museum of Soviet Arcade Games in Moscow. Of course, said museum is an arcade ca. 1990 in the basement of the Moscow State Technical University, but holy hell is this a nostalgia trip for me. The greatest discovery was that they took a few pictures of this: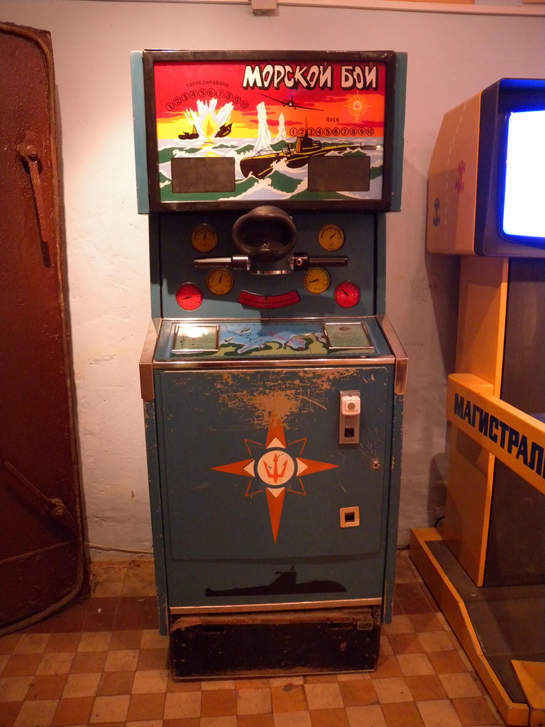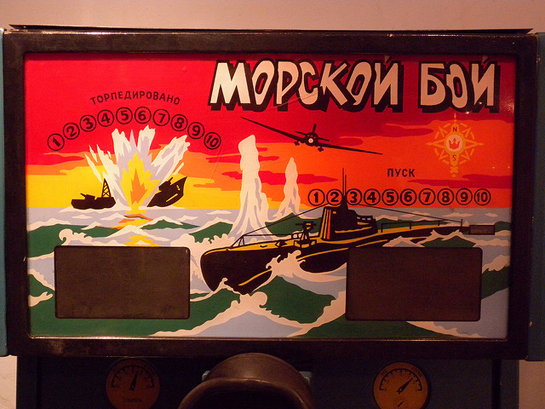 Co. Dangerous Business.
That's my favorite and most-missed game, Morskoi Boi (Морской Бой, "Sea Battle"). It dates back to the 1970s, and is entirely electromechanical. There's no screen, no CPU, no graphics. You peer into a periscope visor onto a diorama of ships moving along the water The floor consists of tiles which light up, representing your torpedo as it approaches its target. If your aim is true, everything goes black except for a red explosion where the target used to stand.
The machine is a knock-off of Midway's Sea Raider, so here's a more deconstructed video of the mechanics:
Here is some more info on the game. The museum also has a simulated version you can play, with the real sound effects from the original machine.