I saw Xiu Xiu and Zola Jesus at the Bowery Ballroom on Friday night. Well, I actually saw Twin Sister, Zola Jesus, tUnE-YaRdS [sic] and Xiu Xiu, but I was only there for one group. Fortunately, the concert was a delightful surprise. Twin Sister was forgettable. Well, the music was okay but much like every overtly twee opening act I've seen in the last few months - and by "every" I mean every opening act I've seen in the last few months has been overtly twee - they were nothing special. Zola Jesus was wonderful. I have listened to her on record and, much like WOODS, it doesn't compare to the energy and ambience of seeing her live. Her set was an unfortunately short 20 minutes, but she packed a mile's worth of improvised stage acrobatics and the entirety of her glorious and operatic-influenced voice into them. One of the funnier moments of the show happened between two of her tracks:
Zola Jesus: "It's a very important weekend for me. It's my birthday weekend..."
Audience: CHEERING
Zola Jesus: "...I'm turning 21."
Audience: SELF-CONSCIOUS SILENCE
tUnE-YaRdS - may I briefly call attention to how much I fucking hate creative casing in band names? - was an odd act: a young woman with two drums, a modified ukulele, a looper and a bassist, blasting out West African and Carribean-influenced indie pop. Think Vampire Weekend wearing their influences on their sleeve (well, moreso, anyway) crossed with Final Fantasy and that's a rough approximation. If anything, her sense of rhythm was dead-on and her scat-like vocalizations, looped over into one another with the drum beats created a genuinely original sound. I located a video of her doing "Gangsta", my favorite number from her live set. The video is a good approximation of what I saw, down to the hand motions:
Now, the topper was Xiu Xiu. If you watched the above video and have ever even heard about Xiu Xiu - from my repeated posts about them, if anything at all - you may rightly assume that a bunch of people split about halfway through their first track. Their stage presence is now minimal: Jamie Stewart on electric guitar (and occasionally Nintendo DS or percussion) and newcomer Angela Seo on synths and a very complex percussion set-up that may resemble a drum kit if you squint hard enough. Jamie's energy on stage is inversely proportional to his incredibly shy persona in between tracks. He becomes a waterfall of sweat, shredding the hell out of his guitar and singing as if attempting to exorcise a demon from the depths of his gut. The tempo and feel of every song was utterly different, some infused with a nervous energy the original track never had - their rendition of "I Luv The Valley OH!" for instance. Below is a video of "Muppet Face" from the show I attended.
...and here is a photo I took of Jamie Stewart playing a Hello Kitty branded Nintendo DS Lite (complete with Hello Kitty charm):

On Friday night I went, with much trepidation, to see Owen Pallett (the artist formerly known as Final Fantasy) play at the Bowery. For those unaware, he is primarily a violinist and had, among his numerous guest spots, arranged the strings and provided guest vocals on Beirut's The Flying Club Cup. The trepidation stemmed from the fact that the tickets were a came-home-late-and-drunk impulse buy and I really hadn't any intention to see him live. I moderately enjoyed He Poos Clouds, an album rife with two things that would endear your humble blogger to practically any album: vocal desperation and oblique Dungeons and Dragons references. However, I couldn't really latch onto the dissonance, and after a few listens shelved the album away for a rainy day. His next and most recent release, Heartland – the first to be released under his Christian name – was much better. Heartland is, ostensibly, a concept album, but I have a nearly-superheroic inability to grasp onto album narratives unless someone holds my damn hand through them (a notable exception being The Mountain Goats Tallahassee, which I have listened to, in full, maybe twelve hundred times over the years and eventually just got.) The annoying, springy dissonance of both the instrumentation and his voice smoothed out and the entire sound was de-avant-garde'd and made significantly more listenable. It was because of Heartland that I was even mildly inspired to actually show up and not just pawn the ticket on last.fm.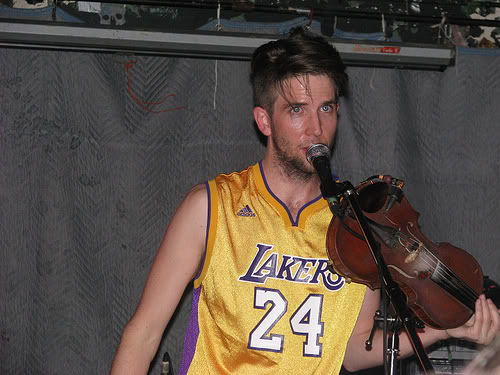 Image co. For The 'Records'
Imagine my surprise when this turned out to be one of the better live shows I've seen. The opening band, Avi Buffalo, was a bit too precious for my taste. (In an odd aside, I ended up exchanging Flickr messages with the admittedly skilled lead singer/guitarist's mother after she mislabeled a photo I had posted. Apparently the band's relatives keep track of these things. Adorable.) I had managed to confuse Owen for one of Bowery's sound guys, confused by his ability to tune a violin. The only other individual on stage, whose name I have forgotten, assisted with a muted guitar and a small drum set with a set of cowbells taped on. As they started playing, it all came together. He generated the backbeat to the music by looping violin plucks/melodies, occasionally processed through a bass pedal, and a synth. He would then start playing a different melody and sing in that beautiful voice of his. Seriously. I haven't heard a voice that clean and pure on stage … ever, really. While musicians generally need to have their head around timing to play, listening to Owen set up his own backing and play to it was a sight to see.
One of my most favorite things about living in the Future is that I can go to a show and a few days later watch it again via a YouTube upload from some kid with a camera I could pay my rent with. So, here's Owen Pallet playing his opening track on Friday, January 18th, 2010, "CN Tower Belongs to the Dead."