Linus Åkesson of Sweden has rebuilt (in the Six Million Dollar Man sense) an old electronic organ into something far, far greater. He calls it the Chipophone:

I'm about four months behind the gaming blogs on this, but you need to go play VVVVVV right the hell now. You can try a two-level demo over at Kongregate and once you become thoroughly addicted, you can purchase the full version (fifteen bucks) on the official site.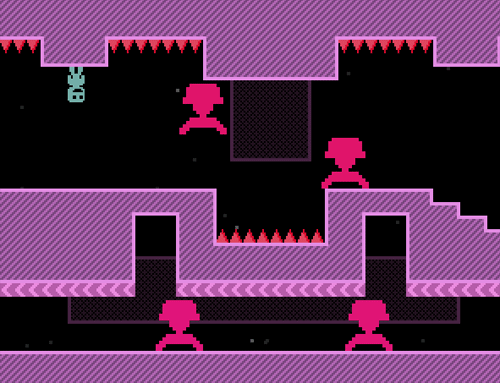 I've never had much of a yen to play old-school style games since I started using a computer that could execute something outside of DOS games and an NES emulator. I'll come right out and say it: older games are way, way too hard for me. I get frustrated very easily. Until I received a Game Genie, I don't think I saw an ending to a single one of my Nintendo games, even with it I didn't finish many of my games. This led to the fact that as I got more powerful computers, I would play fighting games almost exclusively. They were fast, not terribly complex if you didn't want them to be and full of instant gratification. Turns out this is exactly why I love VVVVVV.
All you get is handful of colors and a player sprite with two, coun't em, two facial expressions. Your little guy ventures from room to room, scrolling between them Metroid-style. Each room presents a challenge for the only technique your little guy has: flipping gravity. Hit the Action Button and he flips onto the ceiling. Hit it again and he drops. It only works when he's standing on a surface, so you can't flip in the air. That's it. The rooms, in turn, becomes individual puzzles varying from laughably easy to come on comeoncomeon AGH! DAMMIT!. There's usually one exact way through and it's up to you to divine it. Oh. And there are spikes, odd sprites and various other dangers all floating about. When you die, you respawn at the last waystation you hit, which, depending on the difficulty of the puzzle, may be in the same room or five spike-filled and twitch reflex-demanding rooms away. There are no lives, no continues. You die, you respawn, you try again, you die, you respawn and eventually you figure it out. Well, usually, at least – I've had to find the solution to at least one room online. The odd thing is that watching the game is more frustrating than actually playing it. Each room, each puzzle is so minimalist that you know you can do it, god dammit, and you keep trying. While punishing (oh is it ever punishing) the game never throws something at you that you can't do. It's all about nerves and reflexes.
After you check it out, take a look at developer Terry Cavanaugh's site, where he keeps links to a number of his other games. Don't Look back is another gem, although more of a conventional platformer. Oh, and here is where you can get Souleye's PPPPPP, the soundtrack. I'm usually very way about listening to chiptune for too long, but the quality combined with the style of the game makes it eminently listenable. Here's my favorite track, "Potential For Anything":
After divesting myself of my Atari 2600, the next console in my life was the NES. Eight bits of joyous and unstoppably cruel gaming. That was almost twenty years ago and five years into the system's release date. And yet, new developments for the console are sprouting up more than ever. This retro-innovation is abetted by the growing chiptunes scene. Here's a couple of chiptune-related NES projects:
Neil Baldwin, a composer for NES games during the system's downward trajectory in the 90s, is actively working on the NTRQ, a tracker (sequencer) that runs on the NES. This is, potentially, a chiptune instrument which runs on the native hardware (it currently only exists in code/ROM form.) It may not be as expansive as the sequencers for PCs, it is fully-functional and even controlled via D-pad. Tracks are saved on an internal battery, like a Legend of Zelda save game. Below is a video of Baldwin playing 'live' with a loaded backing song. You can read all about the UI here.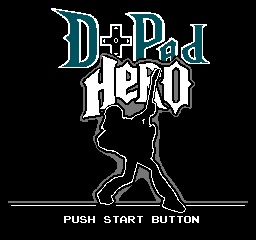 Brief Aside: I am miserable at rhythm games. Have you ever watched someone practiced play Guitar Hero? How impressively flawless it looks? That is as good as I am bad. I flail at the thing like it's an electric eel. I lose all hand, eye and ear coordination. Plainly, I suck. That being said, I'm still excited over Kent Hansen and Andreas Pedersen's NES ROM-based D-Pad Hero. Using button, arrow and simultaneous button-arrow combinations, you thumb out one of the six included hit songs tolerably translated to the medium. The cover of Daft Punk's "Harder, Better, Faster, Stronger" is especially good.
Much like most "innovative" forms of electronic music, I like chiptunes more as a concept than an actual sound. Honestly, my nostalgia for the 8-bit systems isn't particularly vivid as compared to, for instance, my nostalgia for the old Apogee shareware games. I find most compositions to fail at pushing the medium into genuine recognition outside of, say, PAX and the backing track to Ke$ha songs.
Brad Smith's MOON8 project is a complete success, however. Covering Dark Side Of The Moon - Pink Floyd's best album and one of the greatest rock and roll albums of all time -Smith holds an electronic mirror up to the original instead of attempting to adapt it to some video-game nostalgia-ethos. He treats the source material with meticulous respect and the NES chiptune medium as independent of its context inside old Japanese hardware. Although some references - the use of the standard Mario coin blip in "Money" for instance - are a welcome sound (thanks to the crew over at Metafilter for that heads-up.)
You can find the entire album available to download (as two MP3s, one for each side of the LP) here
If you've had your ears open in the last few decades, you've heard the Amen Break. It's in everything. Commercials use it all the time and drum and bass and hip hop rely on it for the basic beat behind practically every track. What started as a drum solo on the B-side of a soul 45 from 1969 became the groundwork for an uncountable amount of music. Take a listen, you'll recognize it immediately even though it's about six seconds long:
Audio clip: Adobe Flash Player (version 9 or above) is required to play this audio clip. Download the latest version here. You also need to have JavaScript enabled in your browser.
Clip from "Amen, Brother" by the Melvins. Audio co. Wikipedia.
The Amen Break. Got it, right? Now think back to watching Scooby Doo. Remember the brief sound clip that happened every time a character would dash in mid air and then zoom off? It was a quick bongo beat and then a "zip!" That's sound effect is called the Bongo Run:
Audio clip: Adobe Flash Player (version 9 or above) is required to play this audio clip. Download the latest version here. You also need to have JavaScript enabled in your browser.
Audio co. 8bitcollective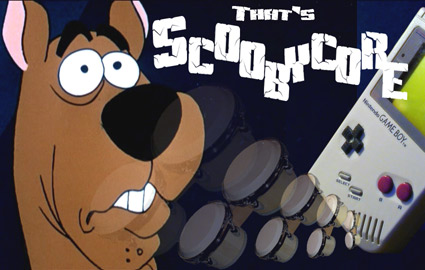 Logo by glomag.
Well, animalstyle of the 8bitcollective chiptunes music group had a brilliant idea. What if you were to make tracks revolving around the Bongo Run instead of the Amen Break? Well, the result spawned one of the tiniest and most insignificant yet incredibly entertaining electronic music subgenres ever: Scoobycore.
TALKTOANIMALS' breakcore track "Scoobie's Doobie 48 Hour Challenge" is my favorite:
Audio clip: Adobe Flash Player (version 9 or above) is required to play this audio clip. Download the latest version here. You also need to have JavaScript enabled in your browser.
hartfelt's "I Would Have Gotten Away With It" is a close second:
Audio clip: Adobe Flash Player (version 9 or above) is required to play this audio clip. Download the latest version here. You also need to have JavaScript enabled in your browser.
Oh, and if you've got twenty free minutes, you can also check out this short documentary on the Amen Break. The video isn't particularly relevant, so you can just have it on in the background: