...and so, another Christmas Eve descends upon us. For those of you unaware, being Jewish, I don't actually celebrate Christmas. Coming from a secular Jewish family, I don't actually celebrate Hanukkah, either. Growing up, we occasionally paid lip service to any number of Jewish traditions, but I don't think we ever made it past the third or fourth candle. What we celebrate is New Year's Eve.
Christmas, in the Soviet Union, was replaced by the New Year's Eve (Новый Год, lit.: "New Year") celebration. The (secular) tradition is almost identical: we decorate a tree (Yolka/Ёлка,) eat a hearty meal, gifts are exchanged, and so on. After coming of age, we also get really wrecked. New Year's Eve is not just a holiday, but also the biggest party of the year. I remember digging through old family pictures and finding a few from a NYE party wherein my mother was roughly my age. She, my father, and some of their friends are sitting on a floor, my father playing his guitar. Everyone is absolutely shitfaced. My friends and I are the inheritors of this tradition and, well, let's just say that making plans for January 1st is practically unheard of.
Okay, I mentioned presents. Well, we Soviets did not have Saint Nicholas. Communism did not look fondly upon the opium of the masses (although not even Stalin himself could neither put down the Church, nor Judaism) but considering the depressive qualities of the Soviet winter, something had to be done. So instead of Saint Nick, we have Ded Moroz (Дед Мороз) - "Grandfather Frost." Tagging along is his beautiful young daughter Snegurochka (Снегурочка) - "The Snow Maiden." What surprises a lot of my American-born friends is Grandfather Frost's color palette; unlike in the states he comes in both red and blue varieties, both equally acceptable.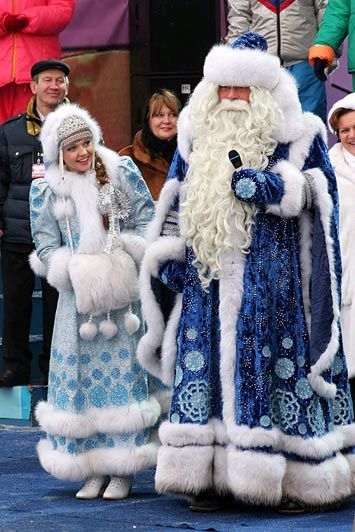 Image co. Voices from Russia.
So, that's how we do. I did mention gifts, though, and here is one for you all. It is David Sedaris' classic story of Christmas-based openmindedness, Six To Eight Black Men. (NB: The video portion isn't particularly relevant, so I'm leaving the windows tiny for ease of browsing.)
Part 1:

Part 2:

Part 3: