I have been absolutely obsessed with Law and Order: Criminal Intent. One night, a few weeks ago, my girlfriend suggested we watch some actual television -- most of our viewing is via Hulu or Netflix -- and we caught an episode of Criminal Intent. I was hooked immediately. While I'm fond of mysteries and crime fiction, I never got into the franchise before. What got me was that unlike vanilla Law and Order, CI doesn't feature the courtroom scenes which, in my opinion , detract from the pace of the plot. SVU, meanwhile, isn't really an option as I actively avoid reading/watching anything involving rape and sex crimes. But this show hit all the right notes.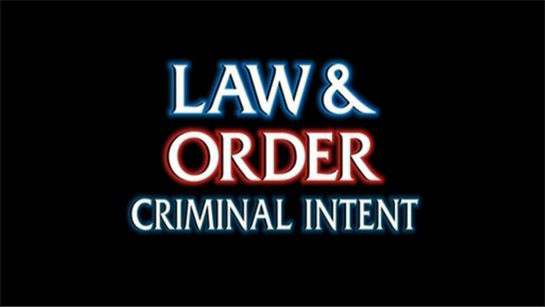 Detective Robert Goren's character is what really got me involved. His investigative and interrogation styles are a perfect sweet spot between old-school, Holmsian detection and aggressive Chandlerian interrogation. Goren sees patterns, makes deductive connections, and uses all those other detective skills I feel has been lost in modern mystery dramas -- replaced, at least in part, by unrealistic technology. When faced with an individual, he unbalances, annoys and lies to them in order to get them to slip up, to tear a hole in their own cover story. He also regularly violates the rules which former-cop P.I.s in noir fiction usually attribute to making them leave the force and go into business for themselves. Goren comes off almost as a family-friendly, less sociopathic prelude of Hammett's Continental Op.
Anyway, this post isn't going to be about gushing over Criminal Intent. Rather, it's about set design minutia, a topic which I've previously revealed to be an interest. For instance, in Season 1, Episode 2: "Art", there's the blink-and-you'll-miss-it Crass poster (for some reason disguised as one for a band called "Pocket.") Appropriately enough, it's on an art student's dorm-room wall.: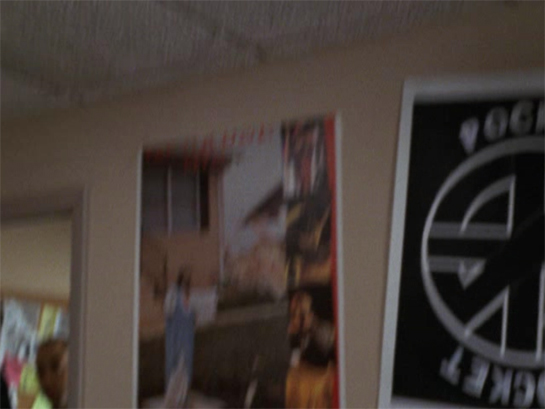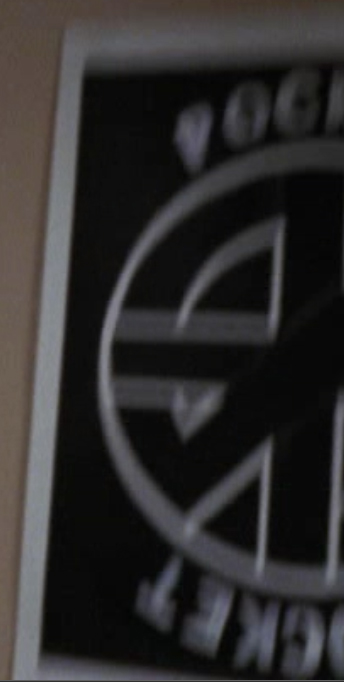 Next, in Season 2, Episode 22: "Zoonotic", a man appears wearing a Vash the Stampede shirt, from the anime series Trigun. These sorts of shirts, although worn much looser and untucked, were rather popular around this time this episode was filmed. It was always strange seeing kids walk around school wearing shirts with characters from anime they've never watched and video games they've never played. The knock-off ones were even better, featuring near approximations -- just near enough to be uninfringing -- of said characters. (As an aside, the actor on the righthand side is James Urbaniak who, among other roles voices Dr. Venture on The Venture Bros.):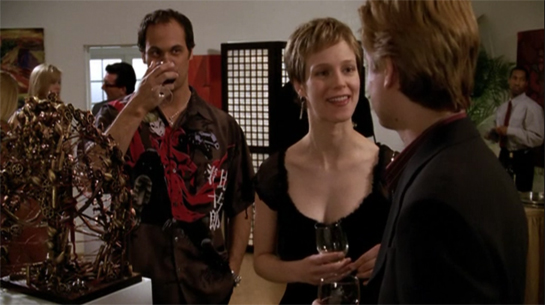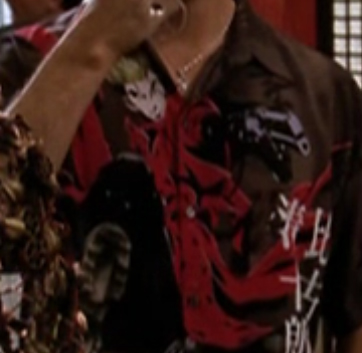 Finally, from Season 4, Episode 12: "Collective", is a Bruce Timm framed painting (?) of Two-Face, as he appeared in Batman: The Animated Series. The scene takes place in, from what I could tell, is an actual collectibles store, so it may not have been a conscious choice to put the object there. However, the brief shot was intentional, so I can only imagine it was a momentary thumbs-up to Timm: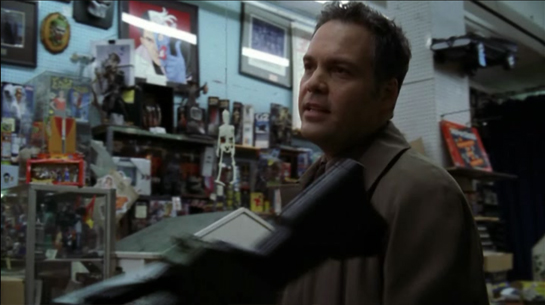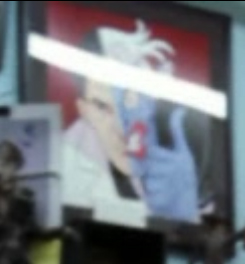 This is all I could find in the first few seasons, or at least all that really stuck out at me. I went through Netflix's entire Instant Watch CI archive, so once I get my hands on some more, I may follow this up.
Malcolm McLaren died today. I originally thought to post some Sex Pistols music, but I realized I have never particularly enjoyed the Sex Pistols. I can honestly say I have never been in a "Hey! Let's put on God Save The Queen" mood. My attitude toward punk in these last few years - especially after spending a year and a half peddling punk-rock merchandise - hovers somewhere around disaffection and uninterest. I'll voice some more sacrilege and state that it has come to the point where I prefer tracks off Jeff Lewis' "12 Crass Songs" to most of the originals.
Maybe I'm in a mood right now, maybe my previous professions of adoration for both the genre and the lifestyle were the words of a poseur seeking acceptance. Who knows. What I do know is that most stuff I have which is classified firmly in "punk" finds itself put on more out of nostalgia than a genuine desire to listen to the stuff.
The Dead Kennedys (and, to an extent, the Ramones) will continue to be wholly exempt from everything I have just written.