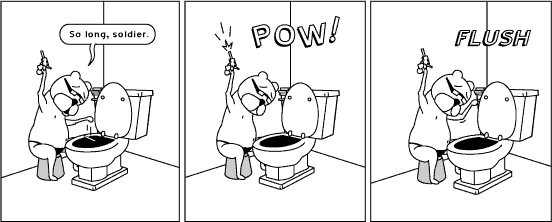 Co. Achewood.
After nine splendid years of headaches, sore throats and money thrown toward my own demise, I've decided to Stop Smoking. Period. I spent the entire day on campus wearing a nicotine patch and it has been considerably less harsh than I thought it would be. I've "quit" twice before. The first time was a January several years back; it was a month-long group challenge of resolve, inspired by needing a month of recuperation from a December spent in the guise of Hedonismbot. The second time was just a few months ago when I stopped smoking for a week due to being more sick than I had ever been sick before. I was fine, honestly, until I had to actually leave the house and go to school, where I found myself surrounded by the vice. I gave in before the withdrawal tics turned me into a someone's Modern Dance thesis project.
...and now I'm done. Fin. Kaput. I swear that I will not turn into an evangelist and will still be as fervently pro-smoker's rights as I have ever been. I leave you with a small excerpt from David Sedaris' quitting essay "Letting Go" and one of the more bizarre Disney shorts I found while researching for this post on MetaFilter.
It's one thing to give up smoking, and another to become a former smoker. That's what I would be the moment I left the bar, and so I lingered awhile, looking at my garish disposable lighter and the crudded-up aluminum ashtray. When I eventually got up to leave, Hugh pointed out that I had five cigarettes left in my pack.

"Are you just going to leave them there on the table?"

I answered with a line I'd got years ago from a German woman. Her name was Tini Haffmans, and though she often apologized for the state of her English, I wouldn't have wanted it to be any better. When it came to verb conjugation, she was beyond reproach, but every so often she'd get a word wrong. The effect was not a loss of meaning but a heightening of it. I once asked if her neighbor smoked, and she thought for a moment before saying, "Karl has . . . finished with his smoking."

She meant, of course, that he had quit, but I much preferred her mistaken version. "Finished" made it sound as if he'd been allotted a certain number of cigarettes, three hundred thousand, say, delivered at the time of his birth. If he'd started a year later or smoked more slowly, he might still be at it, but, as it stood, he had worked his way to the last one, and then moved on with his life. This, I thought, was how I would look at it. Yes, there were five more Kool Milds in that particular pack, and twenty-six cartons stashed away at home, but those were extra—an accounting error. In terms of my smoking, I had just finished with it.
...and so, another Christmas Eve descends upon us. For those of you unaware, being Jewish, I don't actually celebrate Christmas. Coming from a secular Jewish family, I don't actually celebrate Hanukkah, either. Growing up, we occasionally paid lip service to any number of Jewish traditions, but I don't think we ever made it past the third or fourth candle. What we celebrate is New Year's Eve.
Christmas, in the Soviet Union, was replaced by the New Year's Eve (Новый Год, lit.: "New Year") celebration. The (secular) tradition is almost identical: we decorate a tree (Yolka/Ёлка,) eat a hearty meal, gifts are exchanged, and so on. After coming of age, we also get really wrecked. New Year's Eve is not just a holiday, but also the biggest party of the year. I remember digging through old family pictures and finding a few from a NYE party wherein my mother was roughly my age. She, my father, and some of their friends are sitting on a floor, my father playing his guitar. Everyone is absolutely shitfaced. My friends and I are the inheritors of this tradition and, well, let's just say that making plans for January 1st is practically unheard of.
Okay, I mentioned presents. Well, we Soviets did not have Saint Nicholas. Communism did not look fondly upon the opium of the masses (although not even Stalin himself could neither put down the Church, nor Judaism) but considering the depressive qualities of the Soviet winter, something had to be done. So instead of Saint Nick, we have Ded Moroz (Дед Мороз) - "Grandfather Frost." Tagging along is his beautiful young daughter Snegurochka (Снегурочка) - "The Snow Maiden." What surprises a lot of my American-born friends is Grandfather Frost's color palette; unlike in the states he comes in both red and blue varieties, both equally acceptable.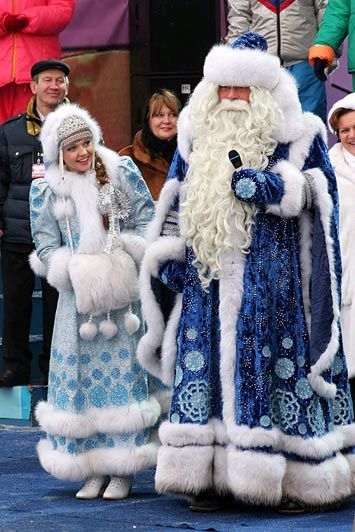 Image co. Voices from Russia.
So, that's how we do. I did mention gifts, though, and here is one for you all. It is David Sedaris' classic story of Christmas-based openmindedness, Six To Eight Black Men. (NB: The video portion isn't particularly relevant, so I'm leaving the windows tiny for ease of browsing.)
Part 1:

Part 2:

Part 3: