Due to the gastro-fatwa my body has declared upon itself as a sort of digestif to the flu, I have been keeping myself from ingesting any caffeine or smoking any cigarettes until I can walk upright without feeling like I've been shivved every three steps. Unfortunately, I am not exactly a "social" coffee drinker or smoker; rather, I depend on the two substances as much as water or sunshine. The last 48 hours or so have taken a toll and left me feeling a little like Dr. Magnus.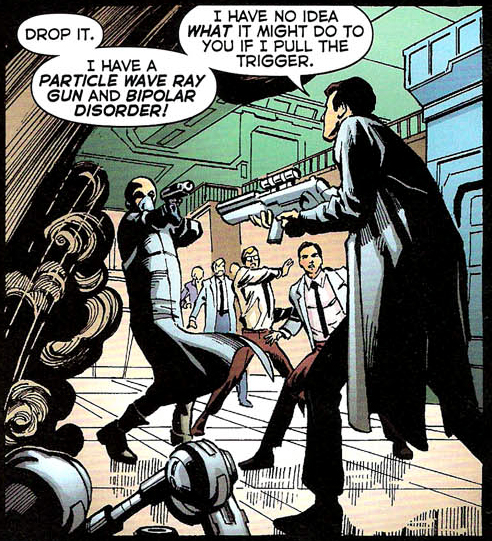 As a special treat, I'd like to introduce you to my own little particle wave ray. Madame Chao is a video-art/glitch/noise project which used to air on BCAT (Brooklyn public access) and on the TV in my old clothing shop, Freaks (I found some of their old VHS tapes in the store VCR.) The videos are a melting pot of cult film, wuxia, and Simpsons references, all infused with a delightful ADHD sensibility and a necessity to shock the hell out of the senses. This is pretty much how the inside of my skull feels right now. Unfortunately, the conversion to YouTube has nearly destroyed the rapid-fire element. If you like what you see, you can visit the website and watch the videos in glorious full quality.
Finally, don't watch this at work. Or if you're epileptic. Definitely not if you're epileptic.
(Image from 52 v. 1 #49)