One of my favorite scenes in Mel Brooks' '68 The Producers is Lorenzo St. Dubois' (LSD to his friends) audition. It's not just funny, but a fantastic parody-cum-time capsule of New York in the 1960s. It also contains one of the most sartorially hilarious zoom-outs in film:
Monday will be the last exam I ever have to take (god willing) as an undergraduate. I can honestly say it has been feeling exactly like this for the last while. Also I just watched Dracula: Dead and Loving It last night: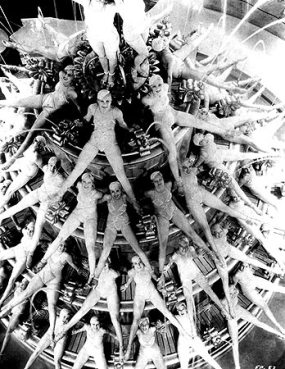 If you've ever seen a cartoon or film parody of a giant, elaborate dance sequence you were watching an homage to one of the greatest musical film directors, Busby Berkeley. The Chemical Brothers' "Let Forever Be" is a great example. Mel Brooks, too, was particularly fond of his work, devoting the ending of Blazing Saddles to the production of a flamboyant director named Buddy Bizarre and inserting this dead-on and beautifully sardonic sequence – featuring Jackie Mason! – into History of the World Part 1:
His films, hitting their peak during the Great Depression, parallel the current love pop culture has for Las Vegas. Shitty economic climes lead to a desire for escapism to an opulence we can't have in our daily lives. So, Depression audiences escaped to Fred Astaire doing a two-step on the ceiling and Busby's girls. I used to have a DVD rip of his greatest hits which I unfortunately lost in a hard drive crash. Luckily, BluDirect has thrown the entirety of it on YouTube. So, if you're ever feeling down, escape to the wonderful world of giant geometric patterns composed of beautiful women dancing in sync. Someone was awesome enough to create a video for the Magnetic Fields song "Busby Berkeley Dreams" (the source of this post's title) with some of this Berkeley material, creating a nice little sampler:
My favorite of his pieces is "Honeymoon Hotel" from Footlight Parade. It is a little different than his usual faire, having a plot. Everything about it (outside of the creepy little person playing a lecherous child) is grand and wonderful. The best section, in my opinion, is the good portion of it devoted to the Honeymoon Hotel's resident not-so-newlyweds schooling the new girl in the art of love in the most innocent 1930s musical way possible: innuendo-laced singin'!
Apparently this sequence was so popular, it spawned a Merrie Melodies parody the very next year: