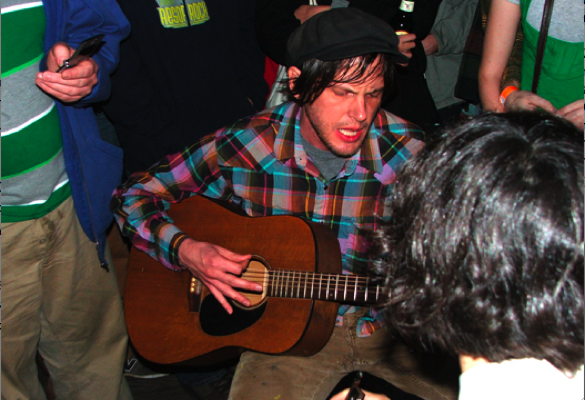 Co. Death and Taxes
I can't say I've been down to the Occupy Wall Street. In fact, I can't say I've been anything but cynical about, save for a few spurts of helping distribute videos of police brutality in my internet watering holes. One of my music-idols, however, managed to get past his issues, drag his ass down there, and play a set for the people. So, here's Jeff Mangum's surprise visit:
For a short while before some of my older and wiser friends helped me find the music that truly dragged me out of the classic rock ghetto I had sequestered myself within during high school, I still managed to find some fun, weird, obscure stuff out there thanks to Napster, TV, and my numerous magazine subscriptions. For instance, thanks to a short review in Rolling Stone, the few tracks off MC Paul Barman's debut EP It's Very Stimulating I could locate were on constant repeat. This was also the first hip-hop I ever really liked (read: the first I ever gave an honest chance to.)
Thanks to an internet-friend of mine, I heard my first Neutral Milk Hotel song long, long before I heard any of their albums. Rather, I noticed them in the "music" field of a LiveJournal post he made and was just entranced by the name of the band. From my senior (?) year of high school to about four or five years later when I finally scored a copy of In The Aeroplane Over The Sea, this track was all I had of theirs.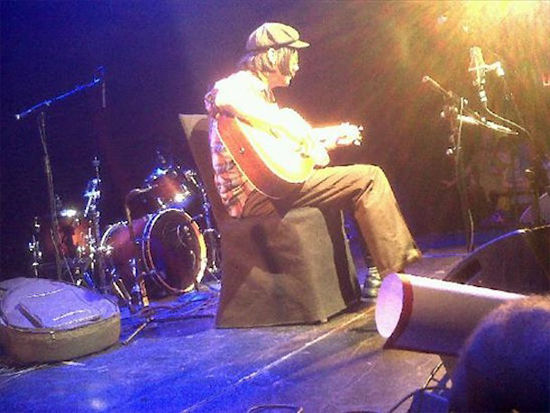 Co. Stereogum
Just this May, Jeff Mangum of Neutral Milk Hotel played a set at Le Poisson Rouge in NYC. I missed it. I don't remember why I missed it, but I'm almost entirely sure there's a good reason. It may have been having no idea he was playing a show. I sincerely hope that was it. The set was part of a benefit for musician Chris Knox, who suffered a stroke in 2009. A benefit album was cut, which included the following cover of Knox's "Sign the Dotted Line" by Mangum. This is the first Jeff Mangum release since the 2001 concert at Jittery Joe's in Athens, GA:
As far as the concert goes, there were no cameras allowed. Fortunately, we live in the future where everyone's telephone happens to have one built into it. To the best of my ability, I've cobbled together Mangum's set (sans the encore, consisting of "Engine") on YouTube. Enjoy!:
I spent last night browsing YouTube for live sets of bands that I like and came up with two gems I've been ever-so-giddy to share. The first is a live set featuring Rap (a.k.a. Dragon, a.k.a. video artist Hari Ziznewski) opening for wunderkind Beirut in 2006. He is accompanied by the incredible Alaska in Winter. While Rap remains relatively – needlessly! – obscure, Alaska in Winter has been all over the place; his track "Your Red Dress" was featured in an episode of Gray's Anatomy (season 4, episode 15.) AIW's 2007 LP Dance Party in the Balkans has been one of my most listened to albums this year and one track features a young(ish) Zach Condon (of Beirut) on vox. So here's Rap and Alaska in Winter with "Sega Song".
Now, this one is the real treasure. YouTube's own goldenpuppy1 has been slowly and steadily releasing a live set Neutral Milk Hotel played in New York in 1998, on their tour for the seminal indie album In The Aeroplane Over The Sea. Neutral Milk Hotel are responsible for some of the greatest music released during the 1990s and, in my opinion, In The Aeroplane Over The Sea is their crowning achievement. If you have never heard this album you absolutely, absolutely must. To certain individuals of certain tastes, lead Jeff Mangum's nervous breakdown and complete resignation from the world of music was an event with as much resonance as the death of Kurt Cobain. Considering that a twelve year old VHS transfer isn't the best introduction to this band, I'll make this offer: if you want to listen to this album that I absolutely fucking insist you listen to, drop me a line and I will hook you up. No one who claims to enjoy music should go through life without hearing In The Aeroplane at least once. Don't get me wrong; I'm not saying you'll necessary like it. Much like the styling of John Darnielle of the Mountain Goats, it is easy to dislike Jeff Mangum's unique vocals and abstract lyrics, and the band's insistence on bizarre, noisy instrumentation. Whatever. As far as the experimental aspect of 1990s indie rock is concerned, they're the origin of the species. Considering that there has been an absolute dearth of quality NMH recordings on YouTube – there are a good videos of Mangum's solo sets however – these videos are a revelation. Now here's Neutral Milk Hotel with "King of Carrot Flowers pts. 2 and 3"
And here is my single favorite song of theirs, "April 8th" from the album On Avery Island.
The rest is here and seems to be irregularly updated.
P.S.: I've gone through the archives and categorized all my posts featuring live music with the live category-tag.