It is frustration central at the office this week. I'm tasked with an Important Project. My capability is summed up with an hour of yelling at a "malfunctioning" logon screen only to realize I'm supposed to login with admin/admin and not any of the half-dozen usernames and passwords I set up during the install. For the technically uninclined reader: neither the door nor trunk keys started the engine, and I missed the note saying the ones I needed were in the glove compartment.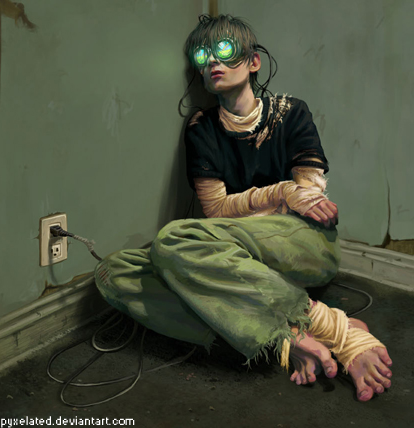 This leaves me feeling a little like the following track which I found through Russian (or, at least Russian-speaking) web DJ Neuro Vincenzo. The specific mix was Turn Up - a compilation of neurofunk, my favorite type of drum'n'bass. Neurofunk is heavily tech-centered; the perfect soundtrack to a robot-oriented chase scene.
Here's another sample: Black Sun Empire and Noisia's "Lead Us," full of delicious samples from the sci-fi neo-noir Dark City
Audio clip: Adobe Flash Player (version 9 or above) is required to play this audio clip. Download the latest version here. You also need to have JavaScript enabled in your browser.
Personally, I'd prefer to feel more like Mackintosh Braun's "Good So Far." They're very, very chill – definitely influenced by Röyksopp – and, as I discovered, perfect rainy-day music. The beats are down enough to not clash with the mood, but optimistic enough to keep playing for reasons outside of laziness. The Sound, their first album, is available for streaming on last.fm.