I rode the wrong train home, adding an eight block-long walk to my odyssey from Brooklyn's hip north end. As I plugged away at retaining consciousness on the preceding line, a headful of red wine shifted my attention away from the conductor's garbled announcements and toward the bored young blond sitting across from me. My shirking faculties robbed me of heed for the proper transfer and I boarded my second-choice train, which arrived with a merciful expedience.
It was the wrong end of five in the morning when I came to and debarked – staggered off – at the correct stop in my neighborhood. This was a laudable accomplishment in itself; I was afraid that enjoying a drink and living in Brooklyn's southern boondocks would, yet again, add up to a firm rise-and-shine prodding, indelicately administered by a police officer walking the graveyard terminus beat at Coney Island. I had originally planned to sit out the night, made timid by the radio's apocalyptic pronouncements of the upcoming weather. Fortuitously, the snow had lingered long enough for my night to resolve itself, and lazily tumbled from the stars as I plodded home through the orange silence which descends hand-in-glove with every nocturnal snowfall.
Audio clip: Adobe Flash Player (version 9 or above) is required to play this audio clip. Download the latest version here. You also need to have JavaScript enabled in your browser.
Parenthetical Girls - This Regrettable End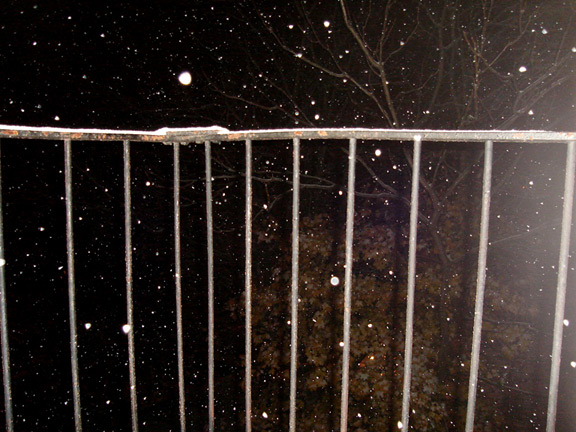 One of my new favorite bands, Parenthetical Girls, have released a split with Xiu Xiu covering Smiths/Morrisey songs. Parenthetical girls chose a classic: "Handsome Devil." I can't get nearly enough of this song. Whereas Morrissey's plaintiveness in the original could lead to some confusion as to the subject matter of the song – the seduction of a young boy -- Zac Pennington makes things perfectly clear. There's a firm sense of violence behind his almost pathetic pleading.
Just for comparison, here is the original:
I think I have found one of the few songs in existence where a cover of a classic song does more justice to its subject matter than the original. Soft Cell's cover of "Tainted Love" is another great example of this. Gloria Jones' version is good disco, it's dance-y and she has a beautiful voice, but it feels like a disposable pop hit.
I know that it's hard to make the argument that Soft Cell's cover is anything but a disposable pop hit, but that "ohhhhh!" contains within it every bit of the desperation the lyrics try to get across. Every elongated vowel Almond sings is another nail through his heart.