A while ago, my grandparents handed me a couple of photos from my childhood. They've finally been scanned so, let's play Pattern Recognition: what do these two pictures have in common (outside of atrocious mid-80s Soviet fashion.)
Did you guess? That's right. Lil' Griph has been rockin' a piece since he was knee-high to a bowling ball. There's another photo that may be found one day wherein I am hanging out in a hammock with a big ole toy rifle. Even after moving to America, I remember hanging out with the neighborhood kids with my super-realistic – this was before the laws mandating toy guns be painted in neon colors – automatic rifle and a candy cigarette in my mouth, pretending to be Rambo. When I was about ten, I spent a summer living with family in the suburbs and my cousin and I would run around pegging one another with BB guns. A year or two later, my mom's boyfriend would let me fire his hunting rifle at beer cans when we'd go out to his cabin on long weekends.
Considering all that, I am still pretty much a pacifist. I have not been in a fight since I was a pre-teen. I have no desire to own firearms, and probably never will unless our political situation demands I take up arms either for or against the government, depending on how well the Teabaggers do in the upcoming elections. Yet I still find myself fascinated by guns, bombs and all sorts of unrealistic, cinematic violence.
With all that said, if you go 1:55 into this video (not sure how to deep link into DailyMotion) you'll see one of the greatest animated firefights ever:

Dead leaves partie 1
Uploaded by coconneduhh. - Check out other Film & TV videos.
Rather than doing something useful after getting home from school, I spent a bit over an hour with tech support trying to fix some nasty-looking BIOS errors on my new laptop. Now, it could have all been solved quickly if I simply said "oh, update the BIOS, got it," but no. I put myself in the hands of the bored-sounding tech support guy. Now, I'm not complaining about that, per se. He was very professional and, more importantly, did not treat me as if this was the first time I have so much as laid eyes upon this magic glowing rectangle. Anyhow, everything seems to be fixed (fingers crossed, knock on wood, &c &c) and I can get to writing with my brand new space bar.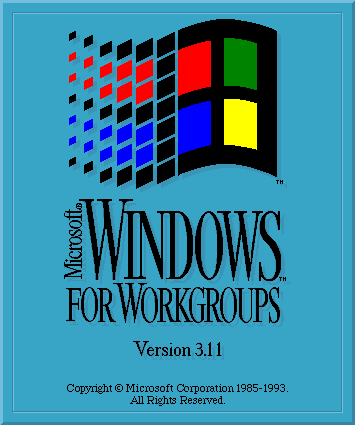 Getting a new computer is a wonderful and exciting time in a boy's life. I have, in my short life, gone through four and am currently typing on my fifth. Thanks to a pair of books I received as a New Year's present, I knew what a daisy chain and how the first microprocessors worked by the time I was four. (Meanwhile, I'd give an arm to re-locate them, or to so much as remember what the hell they were called.) After a ten-year-long lifetime sneaking bits of screwin' around here and there, I received my first desktop - a 386/66 with a whopping eight megs of RAM and ~150 MB of hard drive space - entering 6th grade. I memorized the ins and outs of that bastard during the five or so years I had it. During my freshman year of high school, I upgraded it to Windows 95. This was back in the day that command.com came off a floppy and booting off a CD was an yet unheard-of advance in the field of computing. Why do I bring this up? Because I am now using Windows 7 and I haven't the time nor inclination to explore its dirty little insides like I did back the day of the 386. On the other hand, I don't really have to as technical issues can be solved by a simple Google search rather than hours and hours of painstaking DOS-based trial and error.
I have a feeling all of my good childhood memories revolve around technology. This scares me a little. Now here's some geeky twee goodness. Barcelona with "I Have the Password to Your Shell Account." I originally encountered the song on the Twee As Fuck: The Joy of Kittenhood comp, which I have to say is just pure goddamn gold: