Considering how finely-tuned the sound effects in the Star Wars films are, it's no surprise they're constantly being sampled and thrown into mixes. I've had a copy of this anonymous "DJ Vader" mini-set for years and, no surprise, it is up on YouTube as well:
...and just recently, audio/video DJs Eclectic Method came out with this mix, showcasing one of the only good uses for the prequel series (or, for that matter, much of the material in the Family Guy parodies.) Make sure to watch in HD:
Luke Starkiller and Darth Vader, by Star Wars conceptual artist Ralph McQuarrie: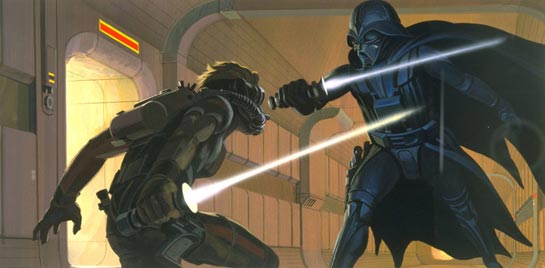 Click to enlarge.
Co. StarWars.com
The original Marty McFly, Eric Stoltz:
I was recently turned on to ArcAttack's latest video. For those unaware of ArcAttack's electric glory, they are an Austin-based "high-tech musical collaborative" who play a number of instruments, with the Singing Tesla Coil – invented by the group – at the forefront. They've even been featured on television, getting to the fifth season semifinals of America's Got Talent. Their latest video is either a reprise or practice performance of their final song on the show, but there's something very different about it. Rather than on a stage complete with audience, polished effects, &c, it's more much more intimate. It feels like the equivalent of MTV's old "Unplugged" series. Anyway, here it is:
Now compare that to one of their first videos, from February of last year:
Here's hoping they only get better.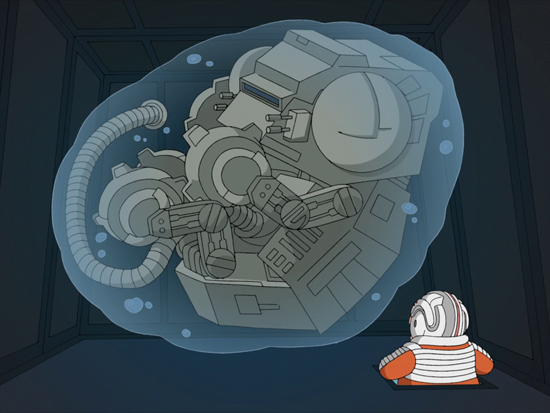 Family Guy hasn't been good for a few seasons now, but I sincerely recommend Something Something Something Dark Side (trailer), their Empire Strikes Back parody and sequel to their Star Wars parody, Blue Harvest (trailer). It's spot-on and made by people who, like me, truly love the original Star Wars series, warts and all. Plus it is almost entirely free of the cutaways that started to get old around, what, season 4?
You can watch the TV edit of it on Hulu, but you should get your hands on the uncut DVD version. Oh, and if you're wondering where the bizarre title came from: