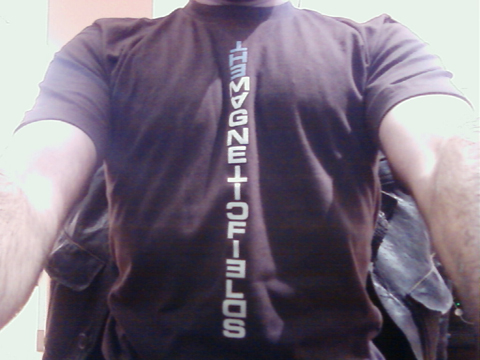 Last night the Magnetic Fields played in The Town Hall and occupying orchestra seat M-120 was your humble blogger. The stage set-up was a bit different than their last tour. Stephin played a ukulele instead of an electric mandolin, Claudia was on a synth-keyboard rather than a grand piano and Shirley played a lap-steel. Although I couldn't actually see Shirley last time, so she may have very well had it then.
The stage banter was, as always, amazing. At one point, between songs, Stephin squinted to the balcony. "You know. There's a lot of empty seats up here in the second row. And I see people standing in S.R.O. (standing room only). If I were you I would ... y'know." He then mumbled "come down here" between his teeth and gestured at the front. Everyone rushed down to occupy those seats while Stephin and the band patiently waited to resume. Imagine how that must have felt. You get some last-minute Magnetic Fields tickets for pretty much the lamest spot in the entire venue and suddenly the Main Man Stephin Merritt personally invites you to sit right the hell up front.
The funniest inter-band exchange happened right after the intermission. That is how capital-C Classy a Magnetic Fields show is. Not only does it take place in a theater with seats, there's an entire fifteen minute intermission to stretch and smoke and whatever. Now, keep in mind Stephin's voice: bass-baritone, very slow and deliberate and if it wasn't for the complete coherence you'd likely think he eats Valium like Jolly Ranchers. So, the band comes back on…
Claudia: How was everyone's intermission? We had some Tazo tea, calming flavor. And cranberry juice. We really know how to live it up back there.

Stephin: I left the blow in the van.
As I don't particularly appreciate Realism - the album they were on tour for – the set list was perfect. They played at least one song off each album which, fortunately, meant a hefty dose of 69 Love Songs. I got to hear some of my most loved songs: "You and Me and the Moon" (off Get Lost, my current favorite album, subject to change without notice,) "I Don't Want to Get Over You" (off 69 Love Songs, Vol. 1) and "The Nun's Litany" (off Distortion). Stephin preceded the latter by stating that Shirley refuses to sing it in front of her mother. While they skipped my favorite Realism track – "Everything is One Big Christmas Tree" – they did my second choice, "Walk a Lonely Road." All-in-all it was fucking fantastic. Their next set - tonight's - will be completely different and I look forward to the day I can purchase tickets for each of their dates on any upcoming NYC tour. One day. One day.
And, thanks to the magic of the future (and jeanniek980), here is last night's rendition of "I Don't Want to Get Over You":