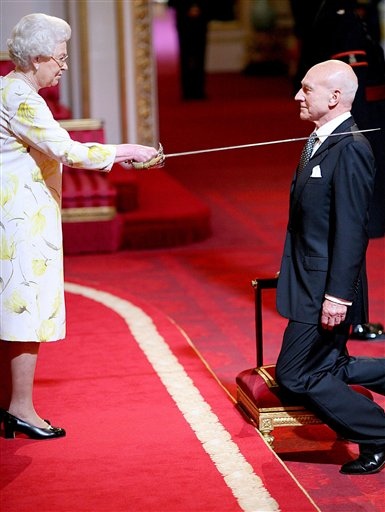 Co. Trekmovie.com
Sir Patrick Stewart was knighted today. I really don't know which living actor deserves this honor more than Sir Patrick Stewart, but I may be saying this due to my deeply personal affinity for him. I watched Star Trek: The Next Generation constantly while growing up; it was comforting sight when, as a kid, I would be left alone in the apartment for hours on end. To this day there are few things I enjoy more than kicking back with some TNG. Certainly Sir Patrick has much, much more to his name than Star Trek, but Jean Luc Picard was a constant presence during my formative years, and that is how I remember the actor best. We should all be lucky that, unlike Sir Alec Guiness – who could not have done more to distance himself from Obi Wan Kenobi – Sir Patrick has embraced his role in pop culture as much as "serious" acting. Now, I know you're going to see the following video on every blog mentioning this story, but I can't resist:
I've had the honor of seeing Sir Patrick as a stage actor, not doing Shakespeare, sadly, but that's in the works. About six years ago, I was lucky enough to see him on stage in a Broadway production of Harold Pinter's The Caretaker. I was a David Lynch fanboy at that point – well, a bigger one, anyway – and in the midst of slogging my way through the second season of Twin Peaks, and was thus more excited about seeing the show's co-headliner: Kyle MacLachlan. Sir Patrick stole the show, naturally, but it took me a few years to sincerely appreciate his performance. His character was a booming homeless man prone to swinging between grandeur and hopelessness. The fear and mental damage he projected was palpable, and yet the furor and strength it was covered up with seemed just as real. It's been years, so I have trouble recalling all but the emotions attached to the performances, but few stage actors have ever hit me on a gut level in the way he did that night.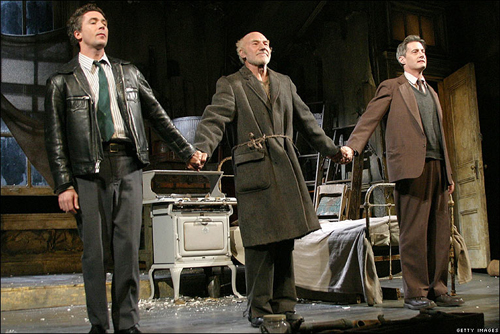 Co. BBC
Also, I hadn't realized until now, but that performance was a Dune mini-reunion! Sir Patrick and Kyle MacLachlan played Gurney Halleck and Paul Atreides/Muad'Dib in David Lynch's 1984 adaptation of Frank Herbert's novel:
Congratulations Sir Patrick Hewes Stewart, OBE.