The new Stephen Merritt compilation Obscurities has a great b-side on it. "Rats in the Garbage of the Western World" originally appeared on the "All the Umbrellas in London" 7-inch. Now, the Magnetic Fields' Get Lost (the album off which that track is a single) is one of my favorite Stephin Merritt release, and "All The Umbrellas in London" is one of my favorite tracks, and not just off the album. So, I'm not surprised at how great this track is. Dark, chaotic and openly gay synth-pop is -- or was, as it seems -- Merritt's forte and damn if he isn't right on key here.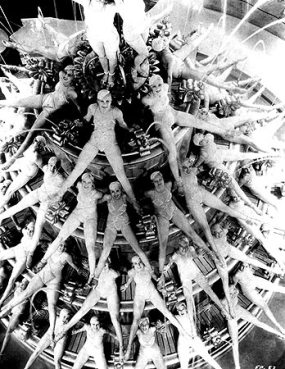 If you've ever seen a cartoon or film parody of a giant, elaborate dance sequence you were watching an homage to one of the greatest musical film directors, Busby Berkeley. The Chemical Brothers' "Let Forever Be" is a great example. Mel Brooks, too, was particularly fond of his work, devoting the ending of Blazing Saddles to the production of a flamboyant director named Buddy Bizarre and inserting this dead-on and beautifully sardonic sequence – featuring Jackie Mason! – into History of the World Part 1:
His films, hitting their peak during the Great Depression, parallel the current love pop culture has for Las Vegas. Shitty economic climes lead to a desire for escapism to an opulence we can't have in our daily lives. So, Depression audiences escaped to Fred Astaire doing a two-step on the ceiling and Busby's girls. I used to have a DVD rip of his greatest hits which I unfortunately lost in a hard drive crash. Luckily, BluDirect has thrown the entirety of it on YouTube. So, if you're ever feeling down, escape to the wonderful world of giant geometric patterns composed of beautiful women dancing in sync. Someone was awesome enough to create a video for the Magnetic Fields song "Busby Berkeley Dreams" (the source of this post's title) with some of this Berkeley material, creating a nice little sampler:
My favorite of his pieces is "Honeymoon Hotel" from Footlight Parade. It is a little different than his usual faire, having a plot. Everything about it (outside of the creepy little person playing a lecherous child) is grand and wonderful. The best section, in my opinion, is the good portion of it devoted to the Honeymoon Hotel's resident not-so-newlyweds schooling the new girl in the art of love in the most innocent 1930s musical way possible: innuendo-laced singin'!
Apparently this sequence was so popular, it spawned a Merrie Melodies parody the very next year: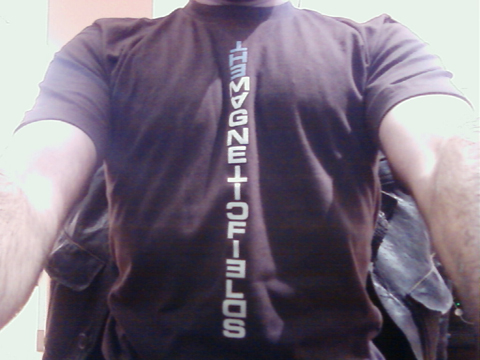 Last night the Magnetic Fields played in The Town Hall and occupying orchestra seat M-120 was your humble blogger. The stage set-up was a bit different than their last tour. Stephin played a ukulele instead of an electric mandolin, Claudia was on a synth-keyboard rather than a grand piano and Shirley played a lap-steel. Although I couldn't actually see Shirley last time, so she may have very well had it then.
The stage banter was, as always, amazing. At one point, between songs, Stephin squinted to the balcony. "You know. There's a lot of empty seats up here in the second row. And I see people standing in S.R.O. (standing room only). If I were you I would ... y'know." He then mumbled "come down here" between his teeth and gestured at the front. Everyone rushed down to occupy those seats while Stephin and the band patiently waited to resume. Imagine how that must have felt. You get some last-minute Magnetic Fields tickets for pretty much the lamest spot in the entire venue and suddenly the Main Man Stephin Merritt personally invites you to sit right the hell up front.
The funniest inter-band exchange happened right after the intermission. That is how capital-C Classy a Magnetic Fields show is. Not only does it take place in a theater with seats, there's an entire fifteen minute intermission to stretch and smoke and whatever. Now, keep in mind Stephin's voice: bass-baritone, very slow and deliberate and if it wasn't for the complete coherence you'd likely think he eats Valium like Jolly Ranchers. So, the band comes back on…
Claudia: How was everyone's intermission? We had some Tazo tea, calming flavor. And cranberry juice. We really know how to live it up back there.

Stephin: I left the blow in the van.
As I don't particularly appreciate Realism - the album they were on tour for – the set list was perfect. They played at least one song off each album which, fortunately, meant a hefty dose of 69 Love Songs. I got to hear some of my most loved songs: "You and Me and the Moon" (off Get Lost, my current favorite album, subject to change without notice,) "I Don't Want to Get Over You" (off 69 Love Songs, Vol. 1) and "The Nun's Litany" (off Distortion). Stephin preceded the latter by stating that Shirley refuses to sing it in front of her mother. While they skipped my favorite Realism track – "Everything is One Big Christmas Tree" – they did my second choice, "Walk a Lonely Road." All-in-all it was fucking fantastic. Their next set - tonight's - will be completely different and I look forward to the day I can purchase tickets for each of their dates on any upcoming NYC tour. One day. One day.
And, thanks to the magic of the future (and jeanniek980), here is last night's rendition of "I Don't Want to Get Over You":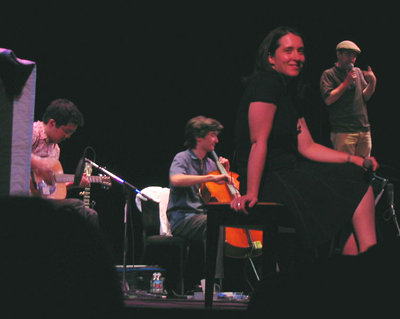 After spending this last week bemoaning the dearth of worthwhile upcoming shows, I proceeded to set a personal record for most expensive concert tickets purchased at roughly 11:45 a.m. today. I will be seeing my probably favorite band of all time, The Magnetic Fields, live in Town Hall on March tenth. Their shows are unique for what is, ostensibly, a pop band. Both the audience and the band are seated, sedate, barely moving. When I saw them during the Distortion tour (a much-appreciated present from my girlfriend at the time, who was also responsible for my first time seeing my other favorite band of all time, the Mountain Goats) the band went so far as to have a honest-to-goodness sofa on stage for the cellist and guitarist. There are no drums in their live sets, but there is a grand piano. It feels, considering the stage banter, more like a revue than a band concert -- which is great, considering the nature of the band. One of my favorite exchanges during the aforementioned concert happened when someone yelled out "Freebird" - inappropriate and cliche during most concerts, hilariously absurd during this one. John Woo, the guitarist, played that first elongated steel guitar note cracked the audience right up. When the laughter and applause died down, Stephin Merritt, in his virtuosic deadpan: "You realize we're going to have to pay for that now?"
I can't wait to see them again.
(Photo by Dreamyshade.)